Ryan Woodring, Garima Thakur, and Misha Capecchi of Prequel
Could you tell us about Prequel and what it is?
Prequel is a low-residency program for emerging artists living in the Pacific Northwest. The program consists of weekly group discussions, mentoring, critiques and concludes with a final exhibition and publication.
On a more abstract/ fundamental level, Prequel seeks to provide a structure outside of an academic framework to engage conversation and foster connections amongst artists, thinkers, and art organizations.
The structure of the program is beautifully (and perhaps at times frustratingly) amorphous. One-half of the program is comprised of establishing a one-on-one mentorship between the selected eight artist and eight more-established PNW artists. This is a distinct relationship that is dependent upon the two individuals involved to define and cultivate throughout the duration of the program. During its three sessions, Prequel has created 24 mentor/mentee relationships each of them taking distinct form. The second half of Prequel's structure involves four months of programming consisting of weekly group meetings. The meetings alternate between critiques with guest curators, thematic discussions with guest artists/curators and workshops with guest educators/ artists/ advocates.
Who is involved in Prequel?
Misha Capecchi: So many people enable Prequel's operation. Eight artists are selected from an open call for applicants by a three-person jury. The selected artists are paired with eight artist mentors. In addition, there are the many guests, organizations and gallery spaces that contribute to Prequel's programming and the group's final and midterm exhibitions. This session eight curators, nine guest artists, two arts organizations, one educator/advocate and three galleries contributed to the programming and exhibitions. On the organizational end of things, this year Prequel was run by us. All three of us are artists. We are Ryan Woodring (Prequel Co-Founder), Garima Thakur (2016 Prequel Artist) and Misha Capecchi (2015 Prequel Mentor). So this year, 42 people were directly involved in making Prequel run (if you count organizations as people- we're not promoting corporate personhood, promise!)
When did Prequel start and what's the inspiration behind it?
Ryan Woodring: Prequel was co-founded by Alexis (Roberto) and I in 2014 and catalyzed by a Precipice Fund Grant administered by Portland Institute for Contemporary Art and funded by Calligram and the Andy Warhol Foundation. We had both moved from Pittsburgh in 2013 and had taken part in two similar programs offered to emerging artists in the actual city of bridges called the Brewhouse Distillery Program, a critique-based low-residency which took part in an old Iron City brewery turned gallery/studios and Flight School, which focused on professional development across disciplines. Moving to a city where neither of us had any real artistic or institutional connections, we noticed how quickly artists in Portland mobilized to make their own small projects and decided we would try the same. For better and worse, Portland distends with short-term artist-run projects that are often well-documented despite their brevity and offer glimpses into what could be longer-term solutions for artist support. Prequel was very much headed towards shuttering up after a busy first year of the program and was self-funded in its second year before receiving a Regional Arts & Culture Council Project Grant to help with this current year. We've tried to document the format and underlying principles of the organization so that it can serve as an example for the city years down the road when our current "staff" has all become too rich and famous to keep running it.
What are the reasons and motivating factors for wanting to create a program such as Prequel in Portland?
I would say that all three of us have diverse reasons for wanting to be involved with Prequel.
Misha Capecchi: As a mentor the first year that Ryan and Alexis ran Prequel, I was straight up jealous of the opportunities and programming that the selected eight artists were exposed to. For example, there had been no conversation in my academic training regarding grant writing. I was interested in the idea of Prequel having the ability to host conversations about issues that could not happen/ don't happen in an academic framework. I wondered for example: As a free program can we discuss issues surrounding money more freely as there are fewer built-in conflicts of interest? I was also wanted to become more involved with Prequel because of sense the comradery that seemed to form amongst the eight artists over the course of the program. I've found being an artist to be a generally insular pursuit. I wanted to be involved with something that provided a structure that required artists to: dig-deeper- take time with one-another to grapple with ideas, collectively suffer a little and perhaps come out the other end with a substantial knowing of each other and each other's work.
Ryan Woodring: I think Misha covered a lot of it. Running a program like this kind of feels like cheating because we've essentially invited ourselves into a bunch of critiques with incredibly driven artists and guests whom we would have had a much harder time tracking down independently. I'm about to start a grad program and am nervous because I haven't had to have my work critiqued in the same way I've seen Prequel artists' critiqued the past three years! But I'm also confident that there are really important issues that still get discussed amongst a small group of artists and this is an uplifting thing to hold onto wherever I end up.
Garima Thakur: Misha and Ryan definitely covered most of it and we all lived vicariously through the prequel participants. I moved to PDX from New York in 2014, being a recent transplant and an Immigrant, a city like PDX can feel insulated. When I applied for Prequel in 2016 I only knew two people in PDX, one was my partner and other my neighbor Anthony. Being a participant at Prequel, I not only met so many wonderful people but also found relationships that support each other within those people. 'Community' is an overused word right now, but it still holds a deep meaning and weight. The paradox of being an artist: we crave insulation and also a sense of belonging. To be a part of a community we also need to be willing to create one and support one another, and Prequel provides and embodies a space to do that.
What type of artists/artwork does Prequel highlight?
MC + RW: This year for the first time, the application stipulated that the applicant should be at least one year removed from extended academic study. Aside from that stipulation, the application is open to anyone to apply, though it was conceived to benefit artists pre-MFA years. The jury this year sought to select a group that was diverse in terms of the ideas they interact with, the media/medium they work in, and their personal experience (education/race/gender/ideas/life and art experience). We introduced an affirmative action framework to guide our jurors in this process. They did a great job!
This year's artists are; Ali Balter, Winnie Black, Marcelo Fontana, Emily Wise, Kevin Holden, Alan Page, Pace Taylor, and Maya Vivas. All eight are wrestling with a unique array of ideas and do so using a variety of mediums. They've been a fantastic group to work alongside!
GT: Like any other program Prequel has evolved over the years and has questioned what types of artists it needs to highlight. But I think more than that it is more about who will benefit from a program like Prequel, who can we support and who will add to its dynamic. Each year has been different but this year as Misha and Ryan mentioned we made changes.
Why is it important to create and have art programs in your community?
RW: There's no shortage of art-making, image consuming, and conversations involving art in some form in any American city. I think the important part is the intentionality of the organizations that are channeling and directing these conversations.
Some questions I try to center Prequel around: Are we critically engaging in our field and working to engender impactful conversations amongst our artists? Are we lifting marginalized voices or are we drowning them out? Is our impact felt outside of the art community? How are we best supporting our artists in a way that our small budget and flexible schedule allows us to do differently from larger institutions?
GT: Art world, like any other world, imitates some part of the world we live in--boxes within boxes, patriarchy, class, capital, race, gender biases, white supremacy and many other layered forms of biases. It is a world where idiosyncrasies, fantastical spectacles, abject juxtapositions make profit. We are capitalizing on criticality as well. Hence it is important to ask of ourselves who are we making art programs for? Like R said what is our intentionality and what can we do to break the current dynamics. It is not only important to have art programs but to question what kind of art programs and who benefits from them.
2018 Prequel Resident work from L to R: Ali Balter, Winnie Black, Marcelo Fontana, Kevin Holden, Alan Page, Pace Taylor, Emily Wise, and Maya Vivas
What are some of the challenges you've faced with starting your own art program?
MC: Money and time, it's a predictable answer but that's it and it's real. As organizers, we all have our own artistic practice and day jobs that we juggle. Running Prequel takes time and a lot of favors asking- a lot of other people's time. Money is a limiting factor, this year we were fortunate to receive a project grant from the Regional Arts & Culture Council which helps a lot. RACC is a fantastic resource for artists trying to do/ make anything in PNW. That being said, we generally run the program at a deficit because we value what it offers us and because we believe that it is valuable to the artists that participate.
GT: Misha covered most of it, but for me, our very very long meetings of programming and evolving our curriculum was the most enriching and challenging part which involved a lot of time and collective thinking. For the four-month program, almost 8 months are spent pulling our teeth, laughing and thinking through all aspects of art making, what would be beneficial to the group, what are our intentionalities and interests as well.
What's exciting coming up with Prequel?
The group's final exhibition, View From Here opens September 15th (6-8 PM) at c3:initiative in St. Johns! In addition on October 6th (11 AM-1 PM), there be a closing, book release and gallery tour lead by the artists at c3.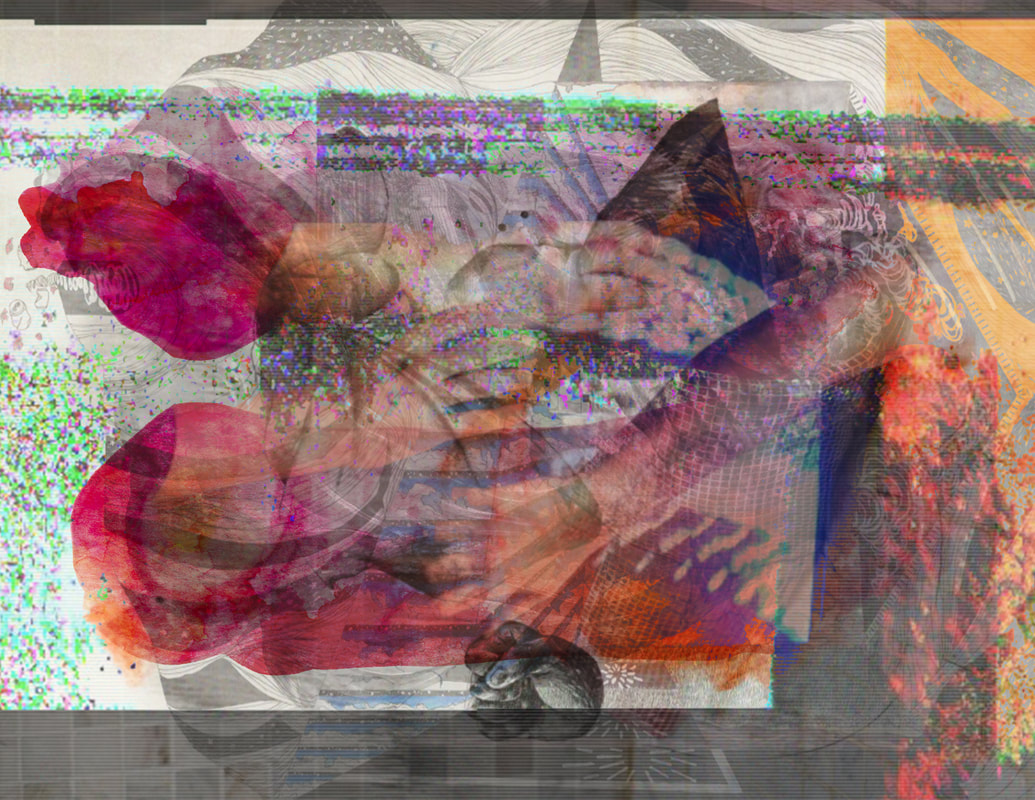 View From Here
Presented by Prequel at c3:initiative
Image composite of eight artist's work courtesy of Marcelo Fontana
Opening Reception: Saturday, September 15th from 6-8 PM
Performance at 7 PM
Book Release & Closing Reception: Saturday, October 6th from 11-1 PM
Artist-led exhibition tour at 11 AM
That itchy feeling when you pick up an old book that smells weird.
A broken down 97' Saturn full of a surprisingly roomy nothingness plus glitter. A smudged cloud between Alicia Silverstone's pedicure.
A turtleneck with a big hole in the wrong place. Soft between the elbows.
A landline no one wants the number for.
The post-game birthday bash backyard bbq block party family fun box.
A representação que vira vestigio.
For the past six months, these eight artists have produced work and engaged in ongoing dialogue while participating in Prequel. Prequel was founded in 2014 as a free, low-residency program for emerging artists living in the Pacific Northwest. The program consists of weekly group discussions, mentoring, and critiques and concludes with a final exhibition and publication.
Ali Balter approaches themes of empathy, intimacy, apathy, and exchange with naïveté and intuition. Her work spans various disciplines; primarily sculpture, performance, installation, sound and social practice. Ali received a BFA in Painting from Oregon College of Art and Craft in 2013. She lives and works in Portland, where she is also a curator and program coordinator for Outwork, a multimedia fundraising exhibition project.
Winnie Black is an artist living in Portland, Oregon. She uses video, sound, paint, and performance to create an immersive alternate reality where the idea of self can be explored and empowered beyond the confines of societal expectation and pressure.
Marcelo Fontana: The central subject of my research is the interaction, understanding and relationship between people and images. It ranges from trying to interpret how the massive production of images affects and influences our world, to working with archive pictures and exploring concepts of aura and soul. Time and location are what move my work, specifically how time affects a certain place and how it's recorded and documented. My goal is to provide a new function for images and objects that are immersed in a "waiting state". My work is constructed either by the accumulation or absence. By overlapping photographs, pictures of blanket slides, images bought at flea markets and old photograph machines I create spaces where the viewer is invited to reflect about what photography has to say. The intention is to create a bridge between the past and the present in a nonlinear way, creating not just parallels between different times but also between the latency of the images; analog and digital, fast and slow changes and the old and new.
Kevin Holden utilizes dissonance, noise, and harmony to explore and interrogate experiences and assumptions regarding sexual, bodily, and political desire. They have recently performed at S1, the Pacific Northwest College of Art, and Portland State University; and have recently exhibited their work at First Brick, the White Gallery, UNA Gallery, the Tailgate-Based Art Festival, the Archer Gallery, and the Evergreen State College. They are co-editor of LOCUSTS: A Post-Queer Nation Zine. They have recently finished studying at Portland State University in Portland, Oregon.
Alan Page ( aka [sic][redacted] ) is a glitch and new media artist who enjoys decontextualizing, remixing, and misusing everything from overheard conversations to catalogs to various softwares. Through physical media and digital manipulation, they create visual disruptions and exploit the "something's gone wrong" itchiness that comes from unexpected results. Influenced by (and a lover of) the old, broken, ruined, and far too lazy to fix, Page creates layered, sometimes dissonant visuals that arguably may or may not be accidents. Page received their BA in Visual Communication from Savannah College of Art and Design and currently resides in Portland, Oregon.
Pace Taylor is an artist working and breathing in Portland, OR, centering their work in queerness. Using illustration, the written word, and uncomfortable human interactions as tools, they build out impressions of identity. Pace scrutinizes intimate gendered moments—compromising and/or dissonant— daily moments, and outputs illustrated abstractions of that paused space. Pace is emotionally preoccupied with the busyness of intersecting identities and chooses to examine and to deconstruct how those identities operate under the gaze of two extremes: desire and disgust, as well as the in between. Pace received their BFA in Digital Art from the University of Oregon in 2015.
Emily Wise is the daughter of a truck driver and a new age dental lab assistant. (Obviously divorced.) Through building bridges between sacredness and some sort of blue-collar profanity, she experiments with varying visual styles to explore the complications and contradictions of meaning-making and personal narrative.
Apart from spontaneous rituals and collaborating with the wind, her works on paper illustrate the space where one's internal world of psychological processes (namely emotion) and the external environment meet and transfer information. Since the completion of her BFA at the Pacific Northwest College of Art in 2015, Emily has been living and working in Portland, Oregon asking strangers how they feel.
Maya Vivas (b. 1990, Miami Fl) is a ceramic artist residing in Portland Oregon. Their ceramic sculptures have been featured in an array of galleries in Portland Or, Los Angeles & New Zealand, including venues in association with NCECA (The National Council on Education for the Ceramic Arts). In addition to being an active member at Radius Community Art Studio, they are currently Co-Director of Ori Gallery. Whose mission is to redefine "the white cube" through amplifying the voices of Queer and Trans Artists of color, community organizing and mobilization through the arts. Maya's work captures textures from flora, mineral and the human body, re-translating these motifs into newly invented forms that are alive, sensual and dynamic. Through these textures, they explore concepts of race, identity and gender as filtered through their own experience as a queer person of color. Through push, pull & mark making within clay, they sculpt with shadow and light as an exploration of the senses, creating folds, complexity and narrative. Maya believes that the beautiful, carnal and heartbreaking nature of clay, is a direct reflection of the human experience.
The exhibition will run from September 15th- October 6th, 2018 and can be viewed at the opening, closing or anytime during c3:initiative's gallery hours: Wednesday-Saturday from 12-6 PM. c3:initiative is located at N. Chicago Avenue, Portland, OR 97203.
View From Here and the accompanying publication is made possible with the generous support of the Regional Arts & Culture Council.